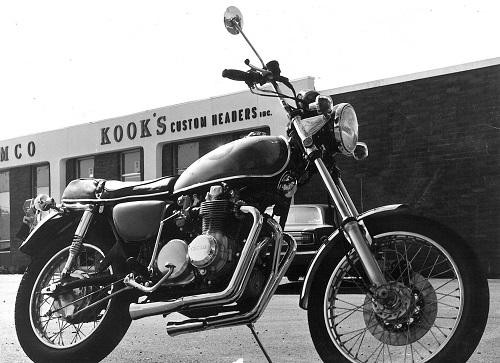 The history of Kooks Headers & Exhaust dates back to 1962 when George Kook (Papa Kook) used his gas torch to build his first set of headers for his family race car. Involved heavily in racing his talents did not go unnoticed by all the local racers. Papa Kook competed week in and week out at area drag strips. The business of building high quality race headers and exhaust systems continues till this day. For the past 60 years Kooks has concentrated its efforts in the racing world. From drag to circle track, road racing, motorcycle, and even offshore boats, Kooks Headers has helped set records and win races. Some of the biggest and most dominant names in NHRA, IHRA, NMCA, NMRA, NASCAR, SCCA, and NASA continue to run Kooks headers and win championships. Kooks humble beginnings has now grown to a full fledge manufacturing facility with the help of George Kook Jr. High quality and great customer service remains the number one priority that helps to set us apart from the rest. You can expect that before and after your purchase as well as when you cross the finish line.

Kooks Headers and Exhaust offers production applications for many late model domestic automobiles. This means that you can get that "custom" header for your early or late model application for a fraction of the cost and have it ship right out to your door step. There is no other header company in the country that can offer you a header for your gas engine truck, while still building handmade custom race headers that are used in applications making over 3,000 horsepower. We pride ourselves in being the pioneers in the stainless steel header revolution and have become the innovators in the exhaust industry as a whole. Kooks designs, tests, and manufacturers it first; then other companies follow.
Kooks is your one stop for every header or exhaust component need. We are capable of mandrel bent tubing services, welding, forming, notching, burning custom flanges, producing specialty collectors and even have our own line of racing mufflers and tips. We are able to do private label work for your exhaust or tube bending needs as well. Please visit our Custom/Specialty page to fill out an application and receive more information.
To stay up to date with Kooks Headers and Exhaust, or to join our social media following please "Like" us on Facebook, "Follow" us on Twitter and "Subscribe" to us on Youtube! And remember "Get Kookin with Kooks!"