The Papa Kook Fund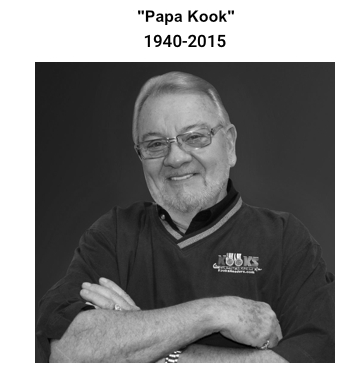 About the Papa Kook Fund
The Make An Impact Foundation is excited to announce its recent partnership with Kooks Headers & Exhaust with our My Corporate Impact Fund. Having Kooks Headers & Exhaust partner with the Make An Impact Foundation allows them to make a positive impact through volunteering and sponsoring community oriented projects for charitable organizations, churches and schools. The foundation appreciates their willingness to impact lives through the work we will do together.
The mission of Make An Impact Foundation is to promote the education and well-being of children. We identify children in severe need (homeless, poverty, etc.) as well as those with learning needs, emotional needs, disabilities or disease, and create opportunities to produce change in their lives. Our vision at MAIF is to meet the needs of children by identifying worthwhile projects, empowering project champions, and finding donor partners to help meet each need.
About Papa Kook
George Kryssing "Papa Kook" was the founder of Kooks Headers & Exhaust and a pioneer for the racing industry. Ever wonder where the name Kooks comes from?

"Born in 1940, George was nicknamed "Cookie" by friends after a fictional character on a popular television program of the era, "Cookie, Lend Me Your Comb," because he always had a comb in his back pocket ready to pass over his coiffure. Cookie the character may have been make-believe, but the real man was larger than life. A veteran of the U.S. Army, he served from 1958 to 1959 with a stint in Vietnam. His military career was cut short in jump school when a leg injury earned him an honorary discharge. Army comrades took the liberty of altering his nickname to "Kook," and the rest is history" (Dragzine)
He was the first to customize his own headers and racing exhaust and laid the path to where the industry is today.
"In his lifetime, the one-time milkman, turned home mechanic and race car driver, built an empire from an original design of stainless steel headers fabricated in his home garage — a timeless blueprint that is still in use today by the company. It now manufactures everything to custom specification at its headquarters in Statesville, North Carolina, where they relocated in 2009 from Bayshore, New York" (Dragzine).
"His first car was a 1950 Ford Crestline, but he started racing cars in the late 1950s piloting a red '58 Buick Skylark. When it didn't travel as fast down the track as he would have liked, he designed his own set of headers. With great success and more than 200 wins at Islip Raceway (his home track), other racers started ordering custom sets of headers to gain track advantage" (Dragzine).
"Our goal is to strive for excellence and manufacture the highest quality performing products in the industry with the latest technology and materials available. In the end, we deliver not just a bunch of tubes welded together, nor an exhaust with a muffler and a shiny tip. We deliver a designed, engineered and manufactured component of over fifty years of dedication and passion into the craftsmanship of what we do, and remember why every Kooks Headers & Exhaust product manufactured is not just a set of headers."