Kooks Super Street Series Equips 2012-2020 Chrylser Lx/Ld Platform For 6.4L HEMI Application
Kooks adds 2012-2020 Chrysler LX/LD 6.2L/6.4L HEMI application to Super Street Series header lineup
STATESVILLE, N.C. (January 19, 2021): Kooks Headers and Exhaust has launched the second Super Street Series headers product line for the Chrysler LX/LD platform, now available for the 6.2L/6.4L HEMI application.
The all new Chrysler LX/LD 6.2L/6.4L HEMI Super Street Series headers (part no. 31021400) application are manufactured using high grade 304-grade stainless steel and each header is handcrafted to ensure proper fitment. The Super Street Series headers utilize 3/8" thick flanges; heavy-duty, 14-gauge primary tubes measuring 1-7/8" O.D.; Kooks patented scavenging spikes; and one-piece collectors.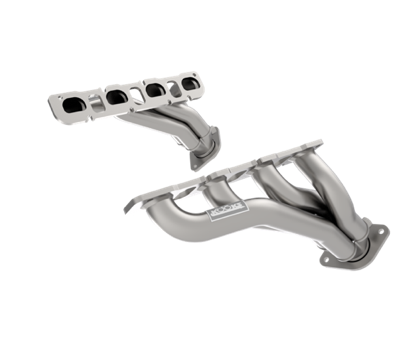 Features of the headers include, 3/8"-thick, two-bolt flanges and formed balls to connect to the OEM catalytic converters, allowing for a direct bolt-on installation. The 6.2L/6.4L Super Street Series header kit includes all of the installation hardware and required gaskets.
The 6.2L/6.4L HEMI Super Street Series headers are compatible with the following applications:
2012-2020 Dodge Charger SRT8 6.4L
2011-2020 Dodge Challenger SRT8 6.4L
2012-2014 Chrysler 300C SRT8 6.4L
Chrysler LX/LD 6.2L HEMI application
For more information about the Chrysler LX/LD 6.4L HEMI Super Street Series headers and Kook's complete line of aftermarket header and exhaust products, visit www.kooksheaders.com.

*These products are not legal for sale, installation, or use on licensed vehicle in the state of California. And they do NOT meet CARB compliance

ABOUT KOOKS HEADERS AND EXHAUST:
For the past 58 years, Kooks Headers and Exhaust has built a sterling reputation in the performance aftermarket and racing industry for their relentless dedication to quality, performance and innovation. For more information, call Kooks Headers and Exhaust at 1-866-586-5665 or go to http://www.kooksheaders.com.

Click Here to Download Release
---
Leave a Comment