Kooks Corvette C8 Super Street Headers Ripples Across Automotive Aftermarket World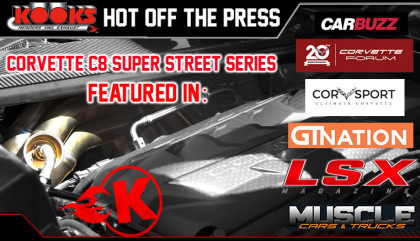 Although the roads were silent during the month of May, the roar of Kooks Headers and Exhaust introducing the Super Street Series for the 2020 Corvette C8 could be heard loud and clear across the internet. Since the initial announcement and several teaser photos and videos of Kooks developing the C8 Super Street headers, many online readers were curious to learn all about the C8 headers and connection pipes that Kooks is now accepting pre-orders on.

In addition to avid automotive enthusiasts sharing blog articles about the news, several popular online publications like LSX Magazine, GT Nation , Corvette Forum and
Corvsport have all shared articles about what makes the Kooks C8 Super Street headers the perfect choice for current and soon to be C8 owners.
The online publications describe the Kooks Equipped C8 sound as intense, savage and a great new sound. Not to mention, as well as the great sound there is quite a jump in horsepower and torque gains the Super Street Series has to offer.

Kooks is currently accepting pre-orders for the C8 Super Street Series and connection pipes. To read more about the C8 Super Street series click here.

---
Leave a Comment